Premium Canadian
Meat & Seafood.
Delivering the local difference.
Shop Local Canadian Meat & Seafood
Not Sure Yet? Try a Sampler Pack.
Can't decide on what to choose from? Overwhelmed by all the premium choices available? Give our Protein2U Sampler Pack a try. With 12 Beef, Pork, & Poultry options included. You get a taste of everything! 
Beef
4 Ibs - Lean Ground Beef
4 - AAA RWA NY Striploins (8oz)
2 - AAA RWA Rib Eye (10oz)
Poultry
8 - RWA Boneless Skinless Chicken Breasts
2 Ibs - RWA Chicken Thighs
2 Ibs - RWA Chicken Wings
10 - Chicken Souvlaki Skewers
2 Ibs - Turkey Bacon
Pork
2 Ibs -  Peameal Bacon
2 Ibs - Sliced Bacon
10 - Pork Souvlaki Skewers
2 Racks - Pork Back Ribs
How Protein2U Works.
Currently delivering to these Durham Region Municipalities.
Ajax, Brock, Clarington, Oshawa, Pickering, Scugog, Uxbridge, Whitby/Brooklin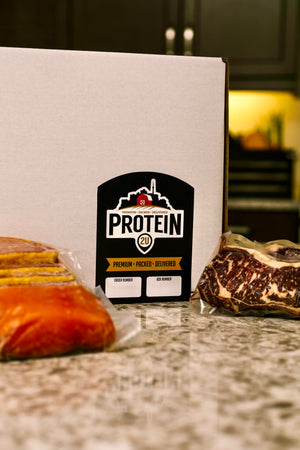 Build Your Box.
Pick from a wide variety of Canadian meat, poultry, & seafood selections. Curated perfectly for you and the family.
Order Now
Premium - Packed - Delivered
Our motto is simple. We strive ourselves on delivering truly the best food that you and your family can eat. With Meat, Poultry, & Seafood that is naturally raised without Antibiotics, or other harmful additives. Simply Premium meats that are carefully Packed and Delivered directly to your door.
It's Your Choice.
Say goodbye to only getting to eat what the grocery store has in stock. We feature an array of products just one click away from your door!
See Selection!
Quality Matters... A Lot
We hand select only the best farms, butchers, and fisheries so our products exceed government inspection standards to ensure you get only the best when you order from us!
Taste The Difference
Made To Order.
Forget worrying about freezer burn. We cut, seal, and package all our products within 24 hours of shipping them to your door.
What People Are Saying About Protein2U:
The convenience of ordering is fantastic! Especially during the pandemic, it's one less trip to the grocery store.

Emma L.
I love the grass fed steak! Tastes like nothing you can get at the grocery store and cooks beautifully in an iron skillet!

Mike A.
Having a wide variety to choose from is great for the whole family. Plus vegetarian for myself... Love it!

Michelle M.